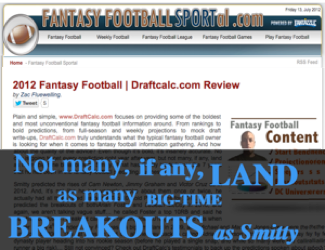 Check out what Fantasy Football Sportal has to say about DraftCalc.com.
This website review consists of breaking down Smitty's track record over the years; the review also highlights what DraftCalc.com has to offer.
Below are just a couple of quotes straight from the Fantasy Football Sportal website review of DraftCalc.com:
"…some of the boldest and most unconventional fantasy football information around."
"Smitty predicted the rises of Cam Newton, Jimmy Graham and Victor Cruz as in 2012."
Read more of this review.