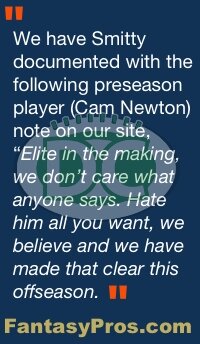 You will be hard-pressed to find a fantasy football writer that took a bolder stance on Cam Newton than Smitty did back in 2011.
Smitty called him a top 5-10 fantasy quarterback entering his rookie year, and FantasyPros.com, one of the better fantasy football aggregation sites on the web, took notice of Smitty's bold 2011 Cam Newton predictions.
Take a look (to your left) at what FantasyPros.com wrote about Smitty's 2011 Cam Newton predictions – FantasyPros writes:
FANTASY PROS: "We have Smitty documented with the following preseason player (Cam Newton) note on our site,

SMITTY: "Elite in the making, we don't care what anyone says. Hate him all you want, we believe and we have made that clear this offseason."
View this article by FantasyPros.com.